To a booklover, what could be more beautiful than a lovely book? We thought you would agree. That's why we are sharing some of our favorite DIY book art projects with you.

Some booklovers are hesitant to turn a book into something else. Well, because it is after all, a book! But there are times we all weed and prune out our bookshelves. It becomes time to get rid of books we've read so we can add terrific books to our collection. This can become the perfect opportunity to turn some of these books into lovely DIY book art. So you can continue to enjoy these books, or even give this art to family or friends as a thoughtful gift. Because we know that a lot of the people you know are booklovers too!

Book Page Roses


Don't water these pretty blooms! They are perfect, just as they are. Create a bunch and put them in your favorite vase. It's a great way to let everyone know just how much you adore books. These are terrific step-by-step instructions.
http://www.instructables.com/id/Book-Page-Roses/

Book Safe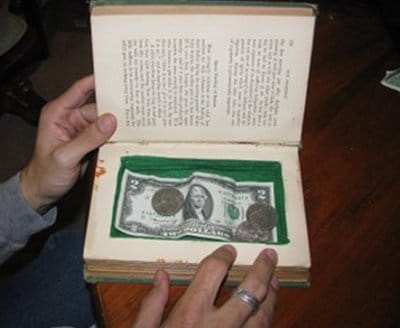 Everyone loves book safes, because not only does it continue to look just like a book - but you've got a secret hiding place too! So you can stash away a candy bar, gift card, cellphone, jewelry or just about anything else that you want to keep all your own. This is a good way to keep valuables safe while in plain sight - very few burglars are going to look through your bookshelf at your Dickens' classics! It's also a terrific option if you have nosy roommates or family members too. So give this one a try.
https://www.artofmanliness.com/2010/12/07/how-to-make-a-secret-book-safe/

Folded Book Art


This DIY book art looks quite impressive but actually you'll find it's quite simple and fun. Just follow the instructions and before you know it, you'll be customizing this project to create great shapes and words in your books. This is lovely and unique home decor, perfect for booklovers.
http://makeitatyourlibrary.org/living-technology/fold-book-word#.Wl5USa6nHcs

Old Book into a New Purse


Love accessories? Then this is the DIY book art project for you. Take a look at this one. You can make a charming purse out of a hardcover book. Lots of ladies choose a vintage book, especially one that has pretty cover art. We know you'll get so many compliments on your new "look."
https://abeautifulmess.com/2015/01/turn-an-old-book-into-a-new-purse.html

Recycled Book Turkey


Looking for a fun Thanksgiving Day DIY book art project? Try this one. What's great about this DIY is that you'll have a lovely table centerpiece. It's a fun DIY that the whole family can enjoy.
https://feltmagnet.com/crafts/how-to-make-a-recycled-book-and-magazine-turkey-centerpiece-for-thanksgiving

Christmas Book Tree


If you're on Instagram, Pinterest or Facebook, then you've probably seen photographs of these lovely Christmas Book Trees created from hardcover books. If you love the Christmas holiday and books, this could be a fun way to celebrate and decorate your home too.
https://www.hypable.com/how-to-make-a-christmas-book-tree/

Folded Paper Book Ornaments


Okay, if you don't quite have room for a Christmas Book Tree, then you can still make some Folded Paper Book Ornaments for your Christmas tree. Not only do these look great on your own Christmas tree, but they also make terrific holiday gifts for any booklovers that you might know.
https://www.pinterest.com/pin/30540103699745828/

Vintage Book Wreath


You've simply got to try this book art DIY project! A Vintage Book Wreath is something that you can put in just about any room in your home, and works in every season of the year. These are charming and also quite simple to make. Give it a try!
https://themagicbrushinc.com/vintage-book-wreaths-glitter-course/

Book Page Apple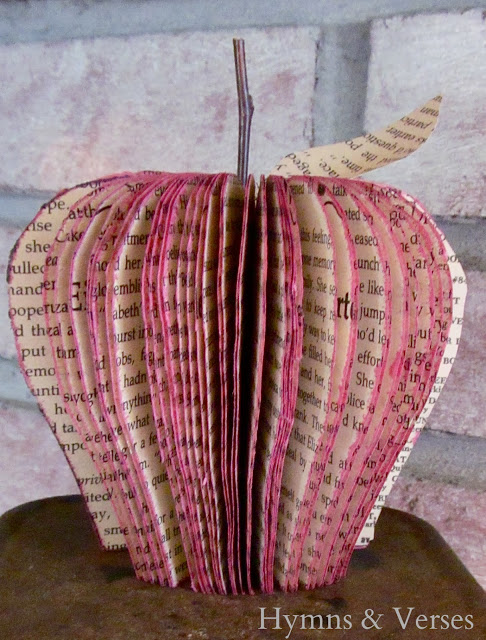 Want to give your teacher an apple? If he or she loves books, then this is certainly an apple they will really appreciate. This is a DIY book art project we know you'll want to try. It's fun for a teacher gift or even for home fall decor too.
https://hymnsandverses.com/2013/10/how-to-make-book-page-apple.html

DIY Book Letters (custom monograms)


We know you're going to want to add this to your home office, or just about any room in the house. It could be fun to do a monogram initial for every family member with a book too.
http://themerrythought.com/diy/diy-book-letters/

Other than turning the pages of a book, what is your favorite thing to do with one? Which DIY book art project would you choose? Would you make a gift for family or friends? Would you make one to decorate your home and welcome guests? How would you like to add DIY book art to your life?